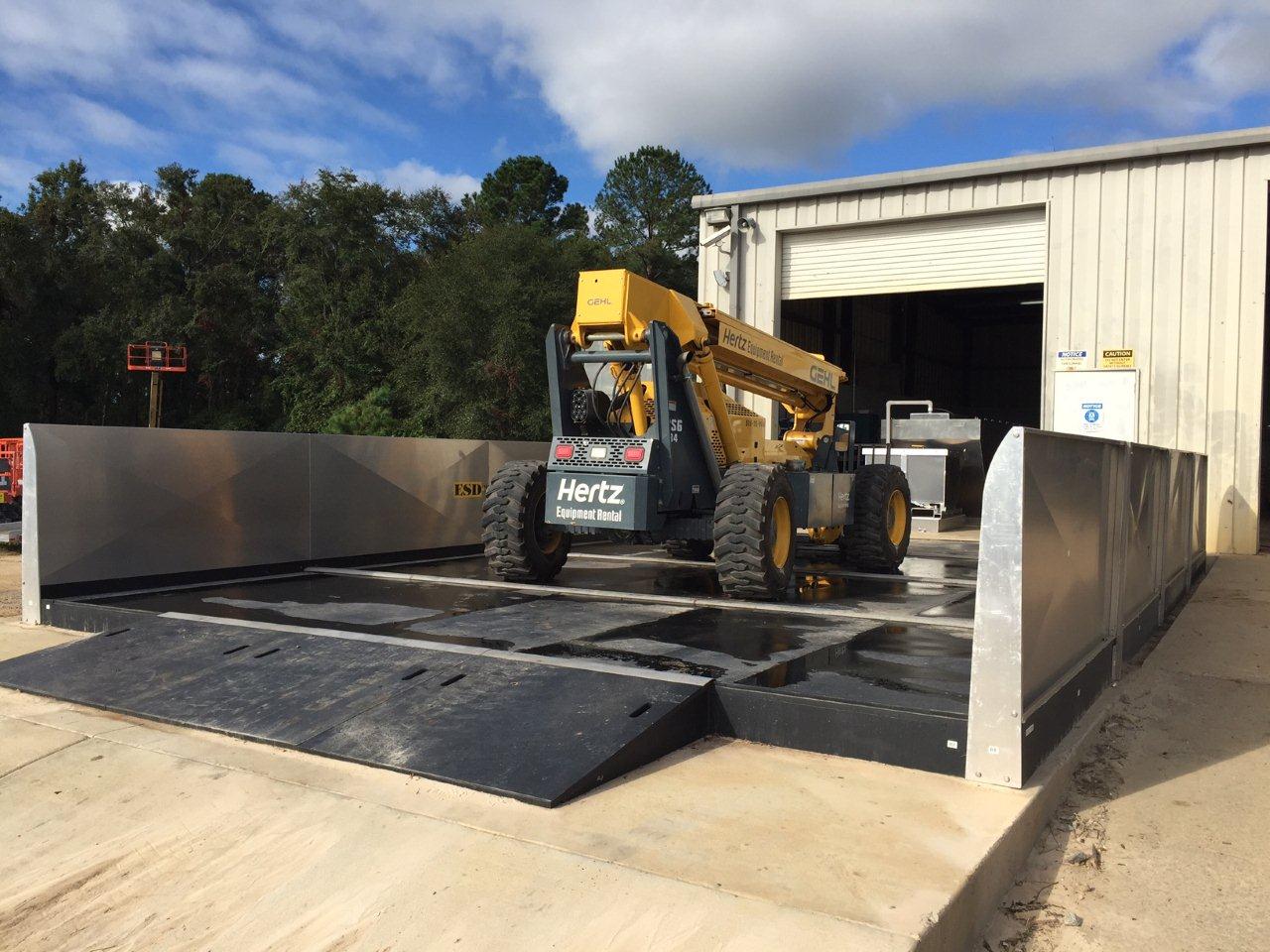 Rental Yard Wash Racks
This rental yard in Georgia went with an ESD portable equipment washing rack due to the high cost of construction permitting and the availability of a quick ESD solution. The ESD recycle system and standard pressure washer are located just inside the roll-up door at the end of the portable wash rack.
Rental Yards are becoming increasingly aware of the fact that equipment wash water that is not contained will contaminate their property. ESD has the solutions to this problem with customized wash water recycle systems and wash racks that will help rental yards conserve wash water, comply with applicable regulations set by the EPA and protect their property from contaminated water from washing equipment.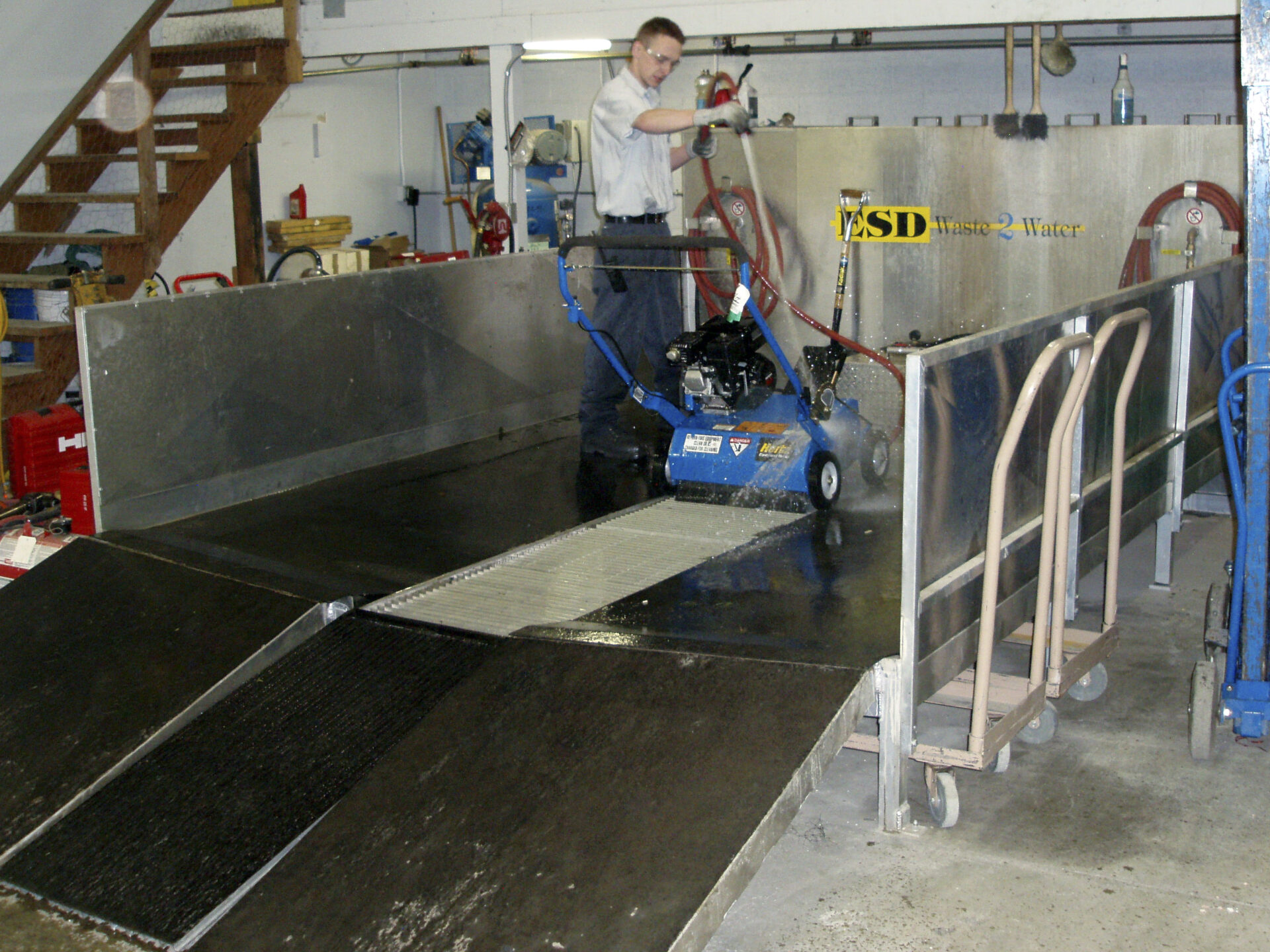 Small Equipment Washing at a Rental Yard
This rental yard in Everett, WA uses an ESD portable wash rack with a built-in wash water recycling system to wash small rental items with 100% recycled water. The portable wash system is small enough to easily fit inside a heated shop for year-round washing. Pictured above is a lawn mower being washed with 100% recycled water on our small equipment rack.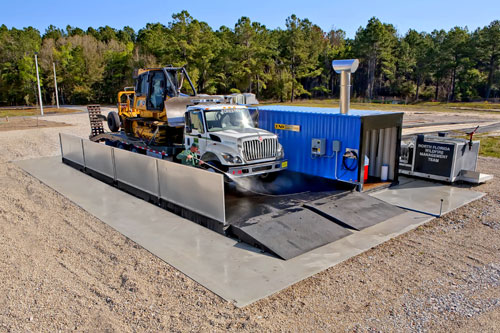 Heavy Equipment Washing Stations
If you are washing heavy equipment, some of your main objectives in designing an efficient and compliant wash rack would likely include be to save and conserve water, comply with EPA regulations, and protect your property from contaminated water from your wash operation.
At ESD, we share your equipment wash rack goals and design, manufacture, install and service portable washing equipment that will help you meet your objectives. From powerful water cannons, to mud handling, to portable wash racks, to wash water recycle systems, we provide and service the equipment you need for an efficient and compliant wash rack for your heavy equipment washing needs. Contact an expert at ESD today for assistance with your next wash bay project.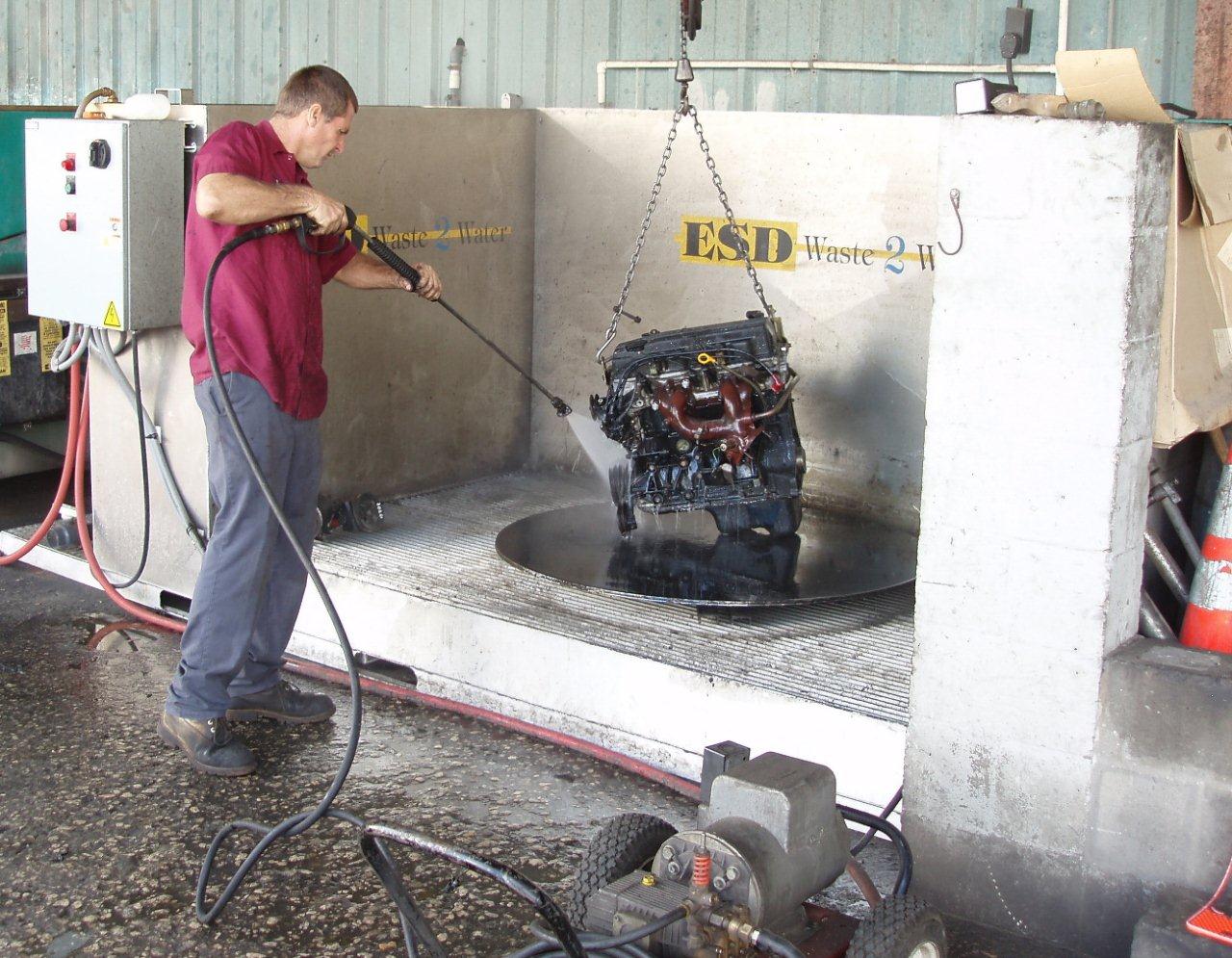 Portable Wash Station Used by an Auto Recycler
This Auto Recycler uses ESD's Portable Wash Station (PWS) to clean engines, transmissions, brakes and hundreds of other auto and truck parts to get them ready to sell. The wash water is 100% recycled and there is a convenient turntable mounted on the wash platform for easy rotation during the washing process of engines and other large parts. In this picture, an engine is suspended from a hoist for easy pressure washing inside of our wash station.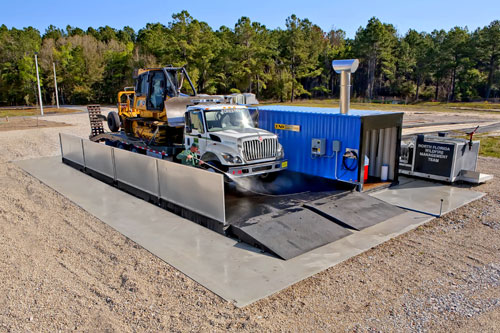 Department of Forestry with a Heavy Equipment Portable Rack
This portable wash system used by the Department of Forestry in Florida includes an ESD portable wash rack with an ESD portable enclosure that includes a pressure washer and a wash water recycle system. It is designed for quick set up and takedown for portable washing needs. The Dept. of Forestry washes a variety of outdoor equipment with this system. Pictured is our rack supporting the weight of a large truck with a bulldozer as they're being washed down with 100% recycled water.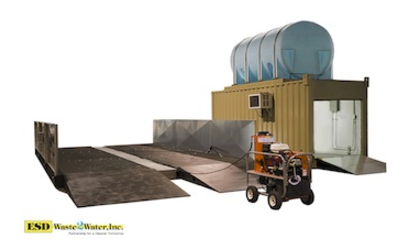 Portable Military Wash Operation – Middle East
This military wash and decontamination station provides the ultimate in portability. In addition to an ESD portable wash rack, recycle system, pressure washer and equipment container, it also has a water storage tank so it can be used in areas with limited water access. The water storage tank provides makeup water for the wash water recycle system due to evaporation and vehicle carry-off during the washing process. This unit is used to wash a variety of military vehicles in the Middle East.