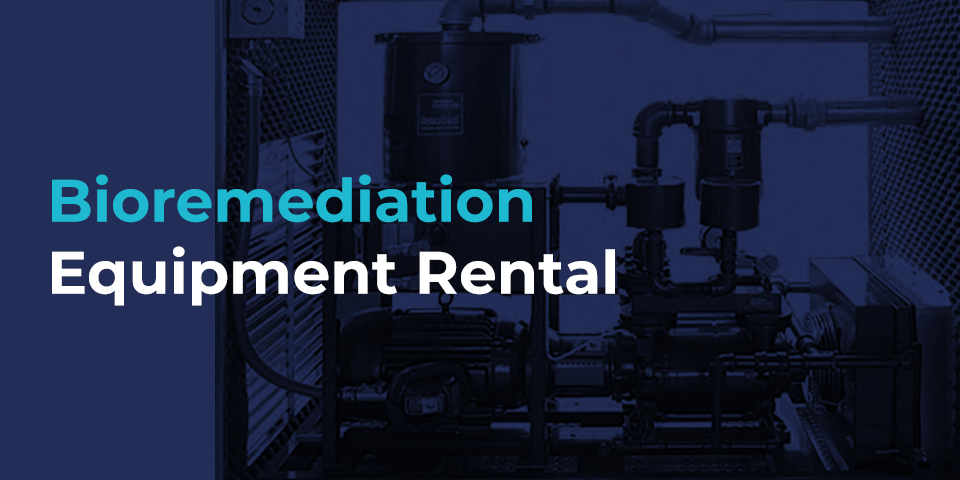 Industries that work with heavy metals, chemicals, oil, and other environmental pollutants know the dangers of allowing these contaminants to remain in the environment. Industrial companies, municipalities and large environmental projects regularly need ways to minimize their adverse impacts on sensitive ecosystems while still accomplishing the work they need to get done. And they often need to do so while remaining within tight budgetary limits.
Environmental remediation equipment rental offers an appealing solution. Renting gives companies the freedom to use machinery within a specific time frame, so they won't pay substantial upfront costs for equipment that sits idle after the project is complete. Rentals also provide the most advanced bioremediation techniques to ensure thorough, safe cleanup of even highly contaminated remediation sites.
Rent Bioremediation Equipment
If a company needs environmental remediation equipment for a cleanup site, investing significantly in an equipment purchase may not always be the right option. Renting equipment gives companies access to the same cutting-edge technology, precision engineering and reliable performance and reduces costs to a more manageable level for a short-term operation.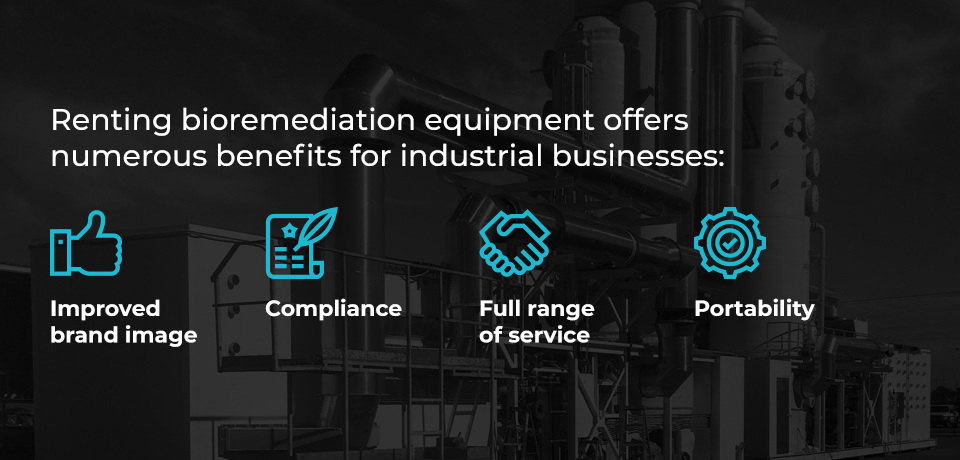 Renting bioremediation equipment offers numerous benefits for industrial businesses:
• Improved brand image: Consumers increasingly look to businesses to provide goods and services while engaging in socially conscious and environmentally responsible behaviors. A recent survey by the sustainability consultancy firm Futerra found that 88% of consumers actively want the brands they support to help them make a difference and live sustainably. Eco-conscious consumers undoubtedly want to know the companies they buy from are leaving their job sites clean and sanitary. Using quality bioremediation services helps enterprises provide those assurances.
• Compliance: Having the right bioremediation equipment on hand helps companies meet environmental standards. ESD Waste2Water's equipment helps businesses comply with Environmental Protection Agency (EPA) regulations by removing the requisite level of contaminants from site soil and groundwater.
• Full range of service: We rent equipment — and we also design, make, manufacture, install and maintain that equipment ourselves. Businesses who work with us will gain the peace of mind of knowing they're collaborating with committed professionals rather than third-party contractors. And when questions arise about any aspect of the rental process, our teams will be ready with answers.
• Portability: ESD Waste2Water can mount equipment on trailers or skids to provide the convenience of portability. On a rugged worksite with challenging conditions and hard-to-access remediation areas, portable remediation equipment provides valuable maneuverability and efficiency to boost productivity.
What Kind of Equipment Can You Rent From ESD Waste2Water?
Working with ESD Waste2Water allows access to an extensive array of rental equipment. This machinery enables companies to comply with regulations, satisfy eco-conscious consumers and do their part to maintain a clean environment for future generations to enjoy.
Some of the equipment available for rent from ESD Waste2Water includes the following:
• Air sparging and biosparging systems: Air sparging and biosparging systems work by injecting high-pressure volumes of air into contaminated groundwater and soil. The pressurized air then dissolves the hydrocarbons found in volatile organic compounds (VOCs) to render the compounds nontoxic.
• Air strippers: ESD Waste2Water uses low-profile air strippers to reduce the number of pollutants in the air. Our rental equipment can remove up to 99.9% of certain airborne contaminants, and it contains convenient removable side trays for easy access.
• Bioremediation equipment: ESD Waste2Water uses the most advanced bioremediation systems. Renting bioremediation equipment provides access to cutting-edge technology that uses good microorganisms to biodegrade harmful chemicals and even other microbes.
• Carbon vessels: ESD Waste2Water's carbon adsorption systems are ideal for both liquid- and gas-phase adsorption. They use carbon filters to remove contaminants like VOCs from air and water, and they come in steel, stainless steel or marine-grade aluminum construction for dependable durability on challenging job sites.
• Dewatering aeration equipment: ESD Waste2Water's mobile dewatering aeration systems treat the water removed from a contaminated site. They remove hydrocarbons from the water to make it clean and nontoxic.
Dual-phase recovery equipment: Dual-phase extraction systems can remove polluted soil vapors and groundwater at the same time. They use high-vacuum blowers and pumps such as water-sealed liquid ring pumps, oil-sealed liquid ring vacuum pumps, rotary-claw vacuum pumps, multistage regenerative blowers and positive-displacement blowers.
• Heavy metal treatment equipment: Heavy metal treatment removes heavy metals such as mercury, lead, cobalt, cadmium and arsenic from remediation sites. Mining operations commonly use this equipment, and it is suitable for a range of other industries as well.
• Oil/water separation equipment: Oil and water separation systems are ideal for industries like oil and gas that need to remediate discharge sites. They are highly effective in removing spilled petroleum from groundwater, for instance.
• Soil vapor extraction equipment: Soil vapor extraction systems clean polluted soil by using blowers or vacuum pumps to remove VOCs and semi-volatile contaminants. They contain centrifugal or progressive-cavity automatic pumps with level controls, and liquid- and vapor-phase carbon vessels are both available options.
• Sparge and vent equipment: ESD Waste2Water's sparge and vent equipment uses a soil vent system combined with air sparging to remove air contaminants. These systems can decontaminate both saturated and unsaturated soil areas at remediation sites.
• Thermal/catalytic oxidizers: These pieces of equipment are hybrid systems that use different treatment temperatures to pull VOCs from contaminated soil at remediation sites.
ESD Waste2Water's fully integrated remediation systems make equipment rentals incredibly easy. Our fully integrated systems come with their piping and wiring already in place, and have passed factory testing. For businesses that need convenient, reliable, off-the-shelf equipment solutions, our fully-integrated systems are ideal. All the machinery needs is to hook up to the site's existing electrical and water supplies, and they'll be ready to begin remediation.
Custom-Designed Bioremediation Equipment
The benefits of remediation equipment rentals from ESD Waste2Water extend far beyond our equipment catalog and turnkey solutions. Our teams are also happy to work with facilities to design custom bioremediation components to meet unique cleanup needs. ESD Waste2Water's custom-designed bioremediation equipment capabilities span numerous machine types and operations — we can develop custom options for any of the machinery we supply as part of our standard catalog.
Our team is happy to help customers configure their rental equipment in a way that works best for the application. We can mount equipment on aluminum-grade skids, enclosures, and open or enclosed trailers to give our customers the options they need for the most effective bioremediation. We can even attach our machinery to various building types.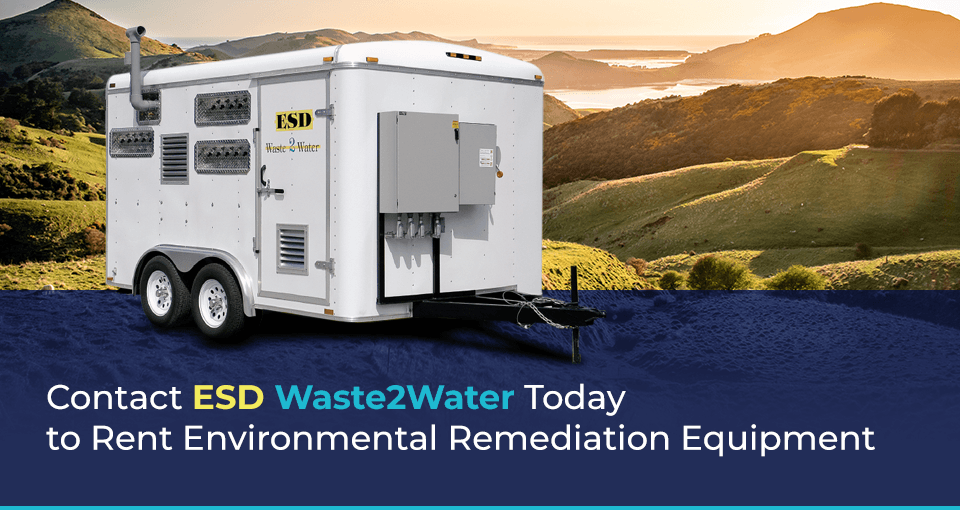 Contact ESD Waste2Water Today to Rent Environmental Remediation Equipment
To find the best-quality rental remediation systems that make job site cleanup convenient and reliable, let the industry experts at ESD Waste2Water assist you.
ESD Waste2Water offers rental and service contracts for a full array of groundwater and soil remediation equipment. If you don't find what you need in our rental fleet, we will design and build custom equipment per your specifications and offer it under our convenient and economical rental program.
Contact us today to request a quote for an environmental remediation rental or to learn more about our services.