Featured Products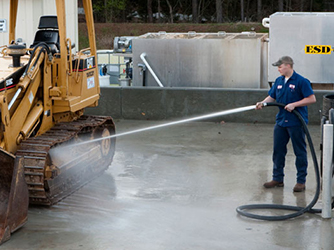 Closed Loop Wash Racks
A closed loop wash rack is a completely contained water recycling system that treats the water used to wash a vehicle or piece of heavy equipment so that it can be used again. These systems biologically breakdown grease, oil and other contaminants so the grey water is safe to reuse. These environmentally friendly equipment wash rack systems can be designed for permanent concrete systems or portable above ground systems. Besides the sustainability factor, these systems are operator friendly with low cost of operation.
Closed loop wash racks can allow you to reuse the water you use to wash heavy construction equipment, rental fleet, golf course equipment, engines, etc. This allows your company to ultimately save on the costs associated with equipment washing and will keep your washing operations in compliance with strict regulations set by the EPA.
View Product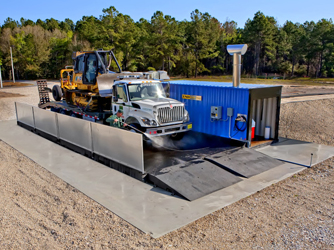 Portable Wash Racks
If a business requires immediate washing capabilities or your business is on a rented/leased property, you may need a portable wash rack. The above ground portable wash rack systems are easy to assemble / disassemble for transport to another location. Even though they're portable, they can still support heavy equipment, trucks and other vehicles to meet your needs.
In addition to being easily relocated, portable wash racks offer unique benefits, such as being customizable, and complying with EPA regulations. The portable wash racks can be designed to incorporate a closed loop recycle system or pre-treat the wash water to meet POTW influent requirements. Consult an ESD professional to help design a Portable Wash Rack system that meets your specific requirements.
View Product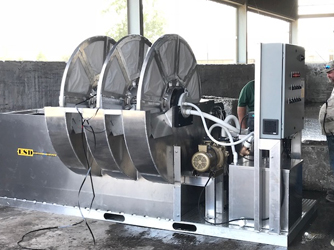 Sludge Drying Unit
Our sludge drying units work with our water recycling system to reduce moisture content in sludge by 85% or more. Using a vacuum system to dry mud, these units transform sludge into a cake-like material that you can then easily remove and transport for disposal. On jobsites where excess sludge is becoming unsafe or unpleasant, using a sludge drying unit is the best and most efficient way to reduce the amount of material that requires landfilling or manifest.
Sludge drying units will save you the time, money and the hassle of other mud transportation methods. They offer continuous, automatic and low-cost operation, as well as the use of byproduct water via a closed loop system. Choose from two sizes — the one-disc or the three-disc — based on the volume of your sludge removal needs.
View Product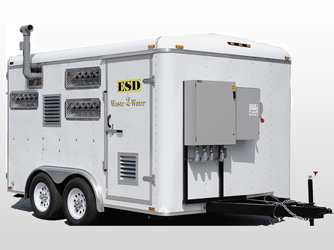 Environmental Remediation Equipment
To address companies' increasing desire to follow eco-friendly guidelines, we offer a complete line of custom environmental remediation equipment. Groundwater and soil pollution is becoming a more prevalent concern among several industries, such as farming, construction, chemical application, mining, garbage disposal and recycling, among others.
Contaminated soil and groundwater makes it difficult, if not impossible, for healthy things to thrive in your soil. By removing these contaminants, you can make the water on your property safer for plants to grow in and allows your business to comply with strict regulations set by the EPA. We offer the following eco-friendly groundwater and soil remediation systems.
View Product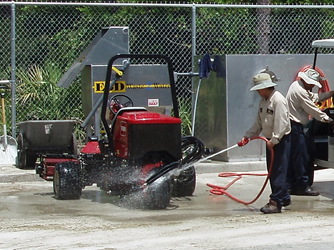 Golf Course Equipment
The ESD Golf equipment is designed specifically to meet course Best Management Practices. Since golf course operations, including turf care, must adhere to proper environmental agencies, it's important to use eco-friendly machinery to clean golf course equipment and vehicles. Golf course staff must be mindful when they're fueling vehicles, mixing, loading and storing any chemicals used to treat the turf.
To address the needs of this unique industry, we offer a full line of efficient and compliant solutions for turf care professionals, including closed-loop mower and golf cart wash equipment. Allow ESD to help design a process flow to maximize your employees time by with an environmental center for fueling, washing, chemical mix/load and storage areas.
View Product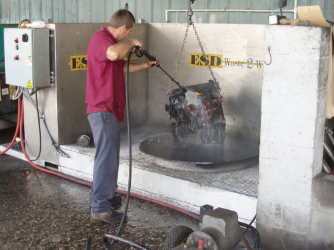 Parts Washing Stations
ESD Waste2Water manufactures a complete line of portable parts washing stations. Each of these systems hold over 2 ton of weight and work well for pressure washing operations.
The parts washing stations are used in a range of industries to clean grease and grime from auto parts, engines, and other pieces of equipment or machinery. For industries and applications that don't require large wash racks, the portable parts washing station may be a viable solution.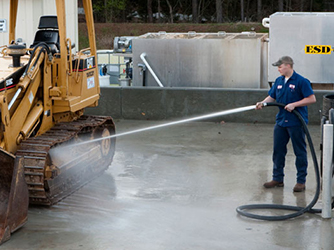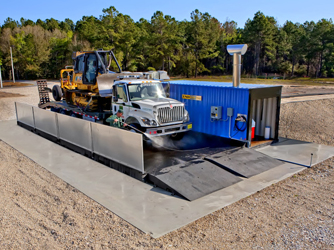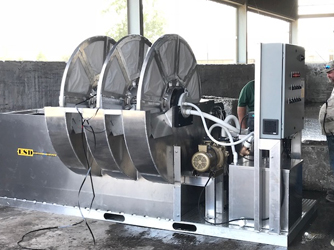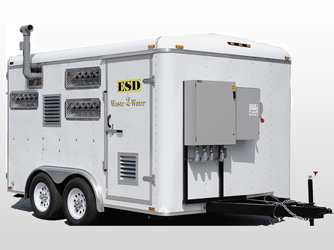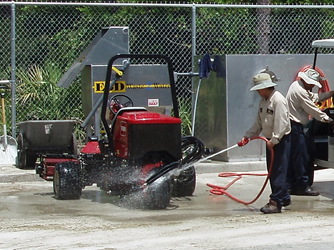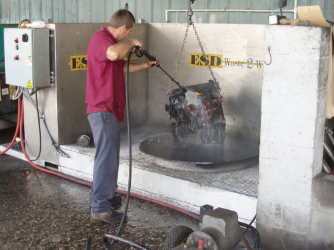 A Few of the Industries We Serve…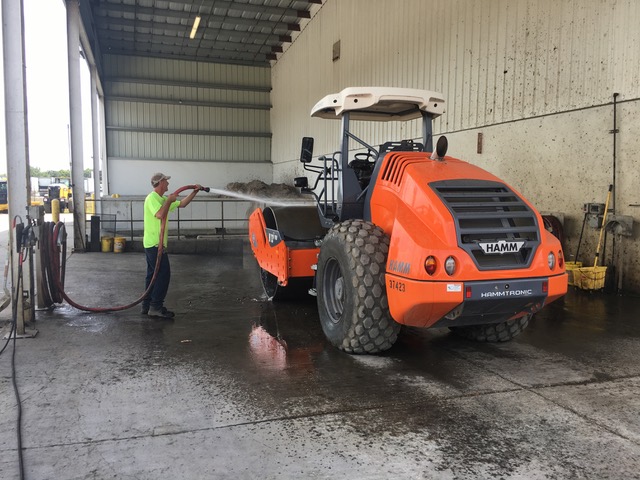 Closed-Loop Wash Racks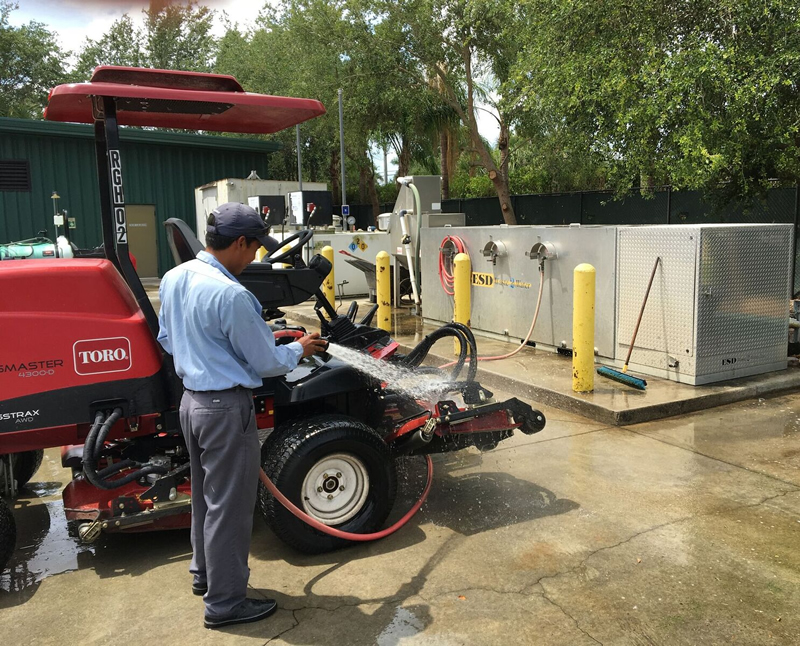 Golf Course and Turf Care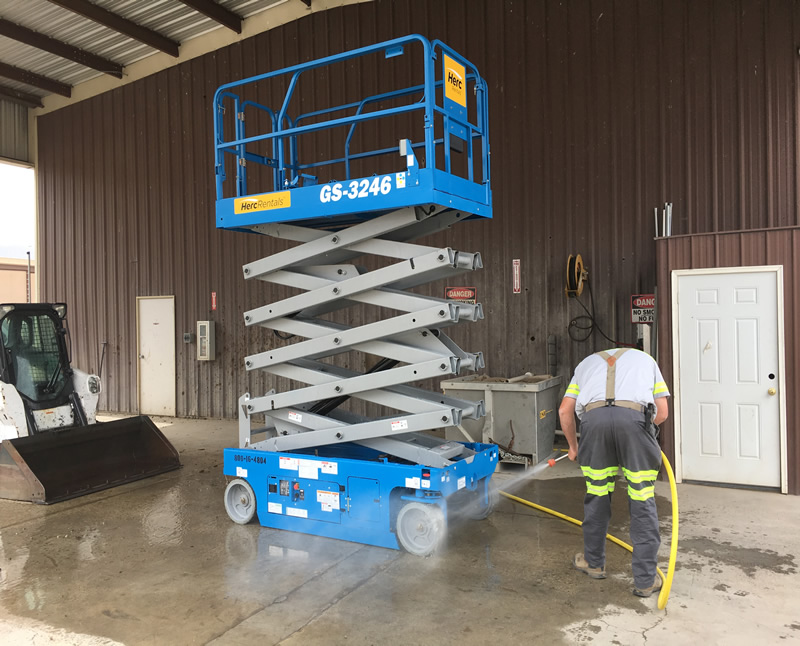 Rental Yards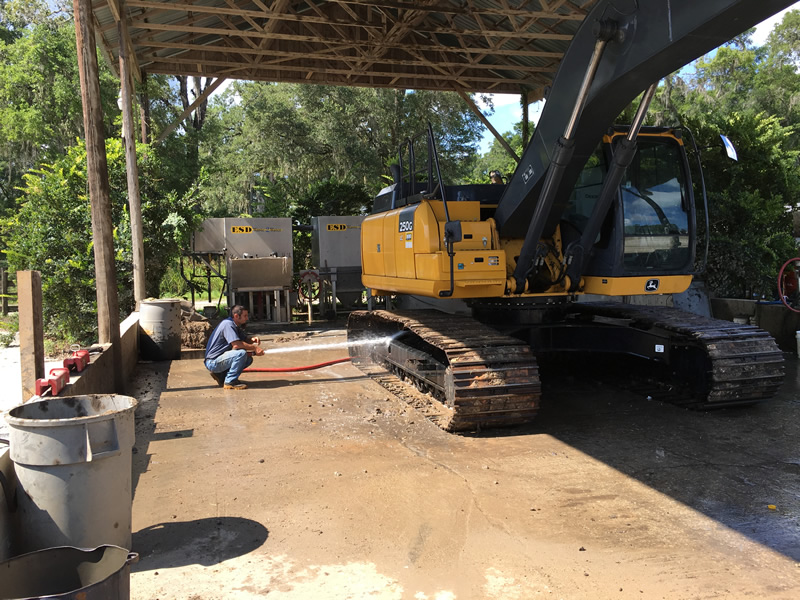 Heavy Equipment and Construction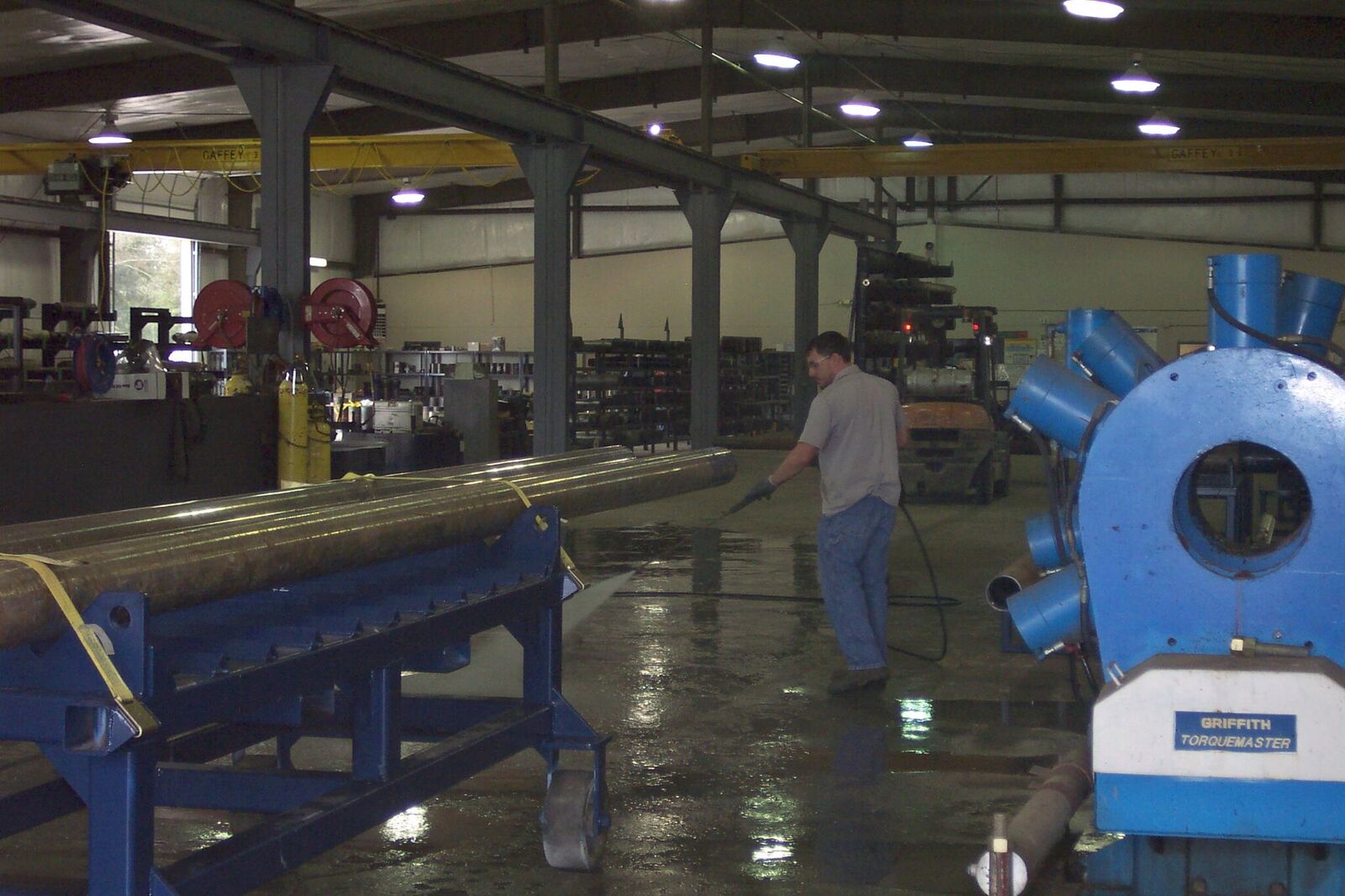 Oil and Gas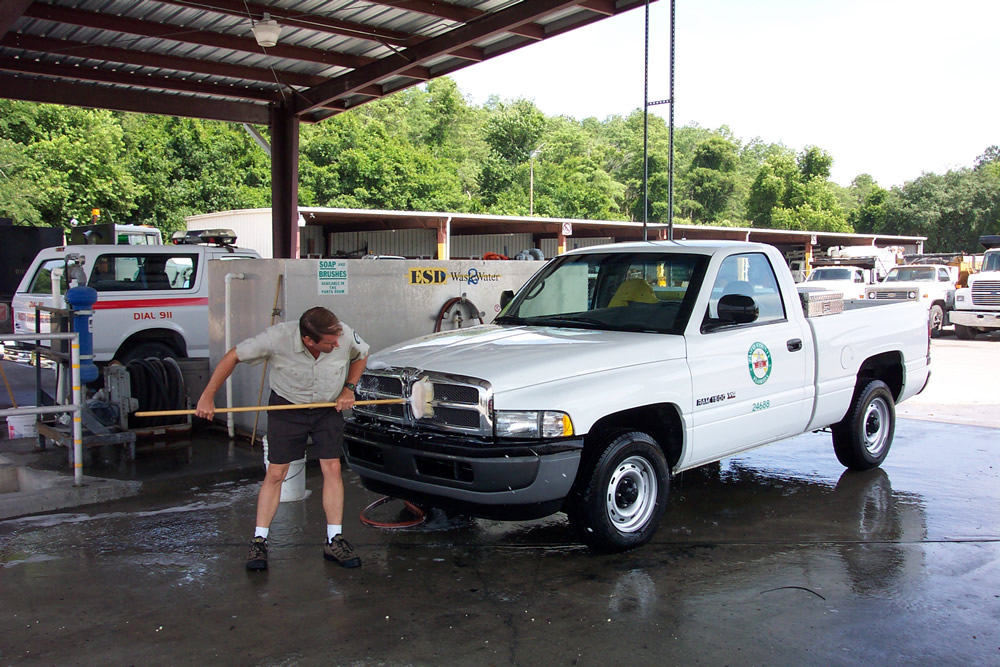 Government & Military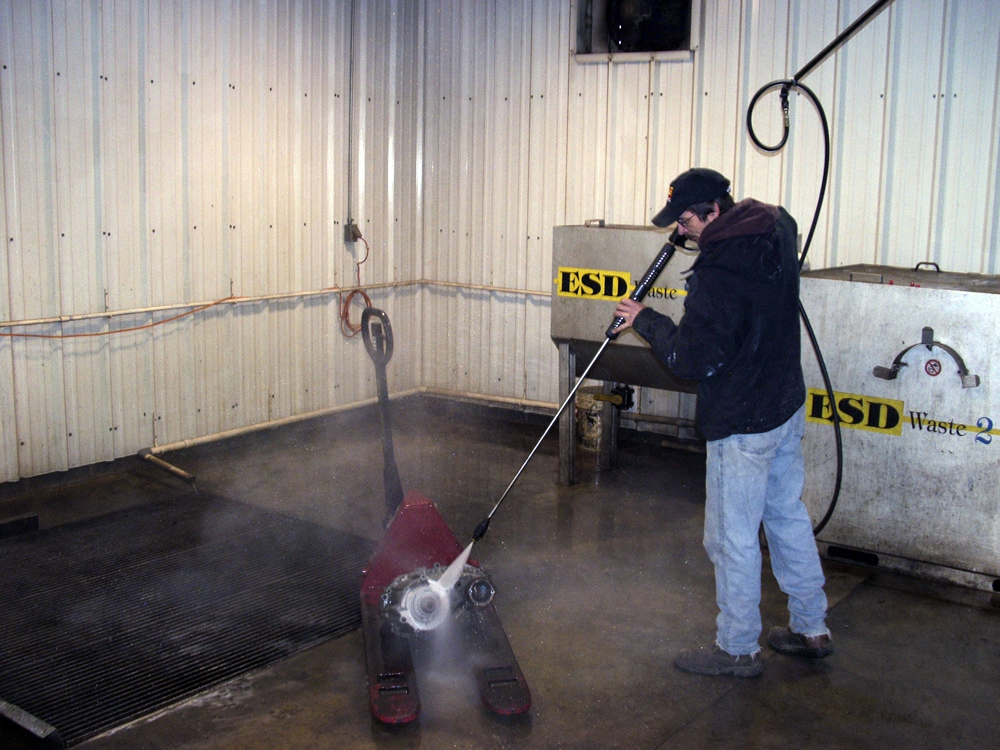 Auto Recyclers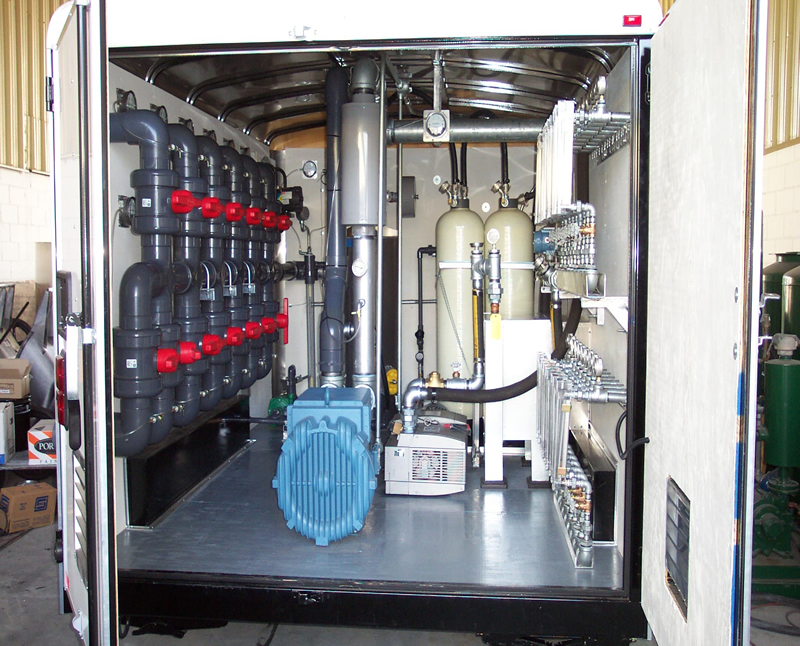 Soil and Groundwater Remediation
The products ESD Waste2Water has available are for: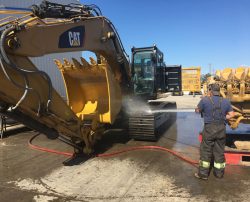 Equipment Washing Stations
One of our most popular products is our versatile, efficient, cost-effective portable wash rack for washing vehicles, parts, and equipment. Our portable wash racks make washing your parts or equipment easy. Whether you have a fleet of cars, rental equipment, trucks, forklifts, bulldozers, or even a small plane, you can set up these equipment wash stations virtually anywhere for easy, efficient washing of your equipment.
Set up your wash rack at your headquarters, a remote location or a job site — it doesn't matter, because you can always break it down and set it back somewhere else with no hassle. You also typically won't need a permit. These wash pads are suitable for high-pressure washing applications, as well. Save on costs, protect your property from contamination and keep your equipment in action longer and enjoy a world of convenience when it comes to washing your vehicles and equipment.
Equipment Washing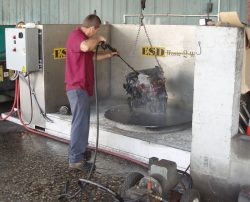 Water Recycling Systems
Our wash racks work as closed loop water recycling systems. This means that all the water you use to wash your car, truck, vehicle or other piece of heavy equipment never leaves the wash rack. The dirty water goes into the wash rack sump system, through our treatment system and back to you for reuse. You use less water, and there is no contaminated waste water runoff to get into your soil and groundwater.
This system will keep you on the good side of the EPA, as well as allow you to wash your equipment without damaging your property or the property around your site with contaminated waste water.
Water Recycling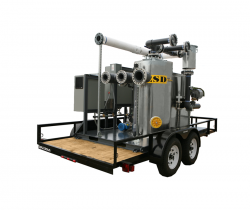 Soil and Groundwater Remediation Systems
We have a variety of remediation offerings to remove the contaminants from your soil and ground water so healthy things can thrive in it again. Remove hydrocarbons, cyanides and other toxic products from your soil and ground water, so your water is safe to drink and your soil is safe for plants to grow in.
Methods of remediating soil and groundwater differ slightly since soil and water are each a different medium with different properties, but we can use variations of biological, chemical or physical remediation for both. Our soil and groundwater remediation options include:
Air sparging and bio sparging, as well as sparge and vent systems

Soil vapor extraction

Low profile air strippers

Dual phase extraction systems

Liquid and vapor phase carbon absorption systems

Oil/water separators

Thermal/catalytic oxidizers

Heavy metal treatment processes

Bioremediation
If you use our portable wash stations, the number of contaminants that will find their way into your soil and ground water should decrease significantly. For whatever remains, call ESD Waste2Water. We'll get those poisons out of your soil and water for a healthy overall environment your business, employees and citizens in the surrounding area can enjoy.
Remediation Equipment
Featuring our Solids Management System
We have created the ultimate in wash rack solids handling
Latest Blog
Interested in learning more about our HSMS System and how it works with our wash racks? See just how...