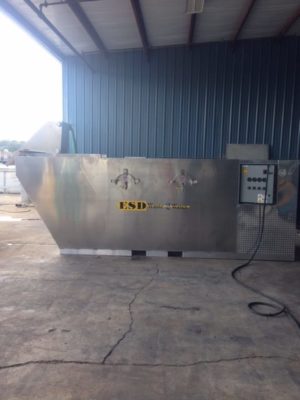 ESD Waste2Water Inc.'s next generation Wash Water Treatment System is here.  A combined TWO-PHASE System that is designed to separate the solids in an Incline Plate Clarifier making it easy for the operators to remove the sludge all while the Biological Treatment System consumes the organics (oils, greases, fuel residue, etc.) converting it into carbon dioxide and water.  The incredible bi-product of this process is a clear "grey" water.
The ESD Waste2Water, Inc. Combo Unit is ideal for:
Turf Equipment
Golf Maintenance Facilities
Forklifts / Scissor Lifts
Heavy Mud Equipment (bulldozers, scrapers, dump trucks, front end loaders)
Equipment Washing
Rental Equipment
Solid Waste Haulers
Additional advantages for this remarkable breakthrough:
Small Equipment Footprint Size
Ease of Operation
Mud/Solids Handling
High Volume Water Cannon Option
Low Consumable Costs
The Combo Unit can easily be paired with an Above Ground Wash Pad System (Containment Island) for a portable closed loop system.  Consult with your local ESD Waste2Water, Inc. Regional Manager to learn more.
Don't forget to ask about a Rental Option!